The governing body of the Artic Institute is composed of a number of permanently designated members of Danish and Greenland authorities and institutions of importance to Danish/Greenland relations. The Institute attaches great importance to fact that all members of the Governing Body have broad knowledge of Danish/Greenland conditions, and that the composition of the members of the Governing Body ensure and optimum contact as regards Greenland, the Arctic and the Greenland environment in Denmark. The Governing Body plays a decisive part in the development of the Artic Institute. The present Governing Body comprises the following members:

Representative of the Kraemers Grønlandsfond
Naja Mikkelsen, senior research associate
Download short CV here >

Representative of The Greenland Representation
Jens Heinrich, head of Representation and Ph.D. from Ilisimatusarfik.
Download short CV here >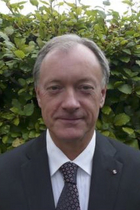 Representative of The Greenlandic Society
Bjarne Erbo Grønfeldt, former head of office for the Royal Family

Inge Høst Seiding, head of Institute at University of Greenland/Ilisimatusarfik
Download short CV here >
Chairmen of the board since 1954
Many famous greenlandic related figures have acted as Chairmen for Danish Arctic Institute and have thus contributed to the institutes advancement:
Ejnar Mikkelsen, Polar Researcher 1954-1963
Helge Larsen, Museum Inspector 1963-1980
Sven Thostrup, Vice admiral 1981-1993
C.C. Resting-Jeppesen, former 'Kæmner' 1993-1999
Isi Foighel, Professor 1999-2004
Peter Augustinus, Adm. director 2005-2012
Leo Bjørnskov, former Permanent Secretary 2012-2014
Nils Bernstein, former National Bank Governor, 2014-2021
Daily management since 1954
The daily management of Danish Arctic Institute has been handled by a number of directors and business leaders who have spearheaded the institute:
Helge Larsen, Museum Inspector 1954-1963
J.V. Helk, Colonel 1963-1976
N.O. Christensen, former Governor 1976-1987
C.C. Resting-Jeppesen, former 'Kæmner' 1987-1993
Grethe Knutzen 1993-1995
Jens Fabricius, M.A. 1995-2000
Leif Vanggaard, Staff physician 2000-2006
Bent Nielsen, Eskimolog, Ph.D. 2006-