Danish Arctic Institute collects and stores/preserves material about Greenland and Danish activities in the Arctic regions. The collections are taking part in promoting the knowledge of the history, cultures and social conditions Greenland and the Arctic regions.
The Institute disposes of the following collections:
Documents Archive
Photo Collection
Maps Archive
Collection of Arts and Objects of Art
Sound Collection
Book Collection (Polar Library)
The extensive archive of documents of the Arctic Institute includes diaries, manuscripts, letters, reports and other written materials about Greenland and the Arctic regions. They are all registrated in a data base, which is available via the website of the Danish Arctic Institute. The Institute also has an impressive Photo Collection, which with its more than 250,000 photos is the largest photo collection of historical photos from Greenland in the world. Around 150,000 of these photos are available in the Arctic Institute website. In the Institute's Archive of Maps there are several thousand Greenland maps as well as maps of the Arctic regions and the Antarctic region. The fine collection of Arts and Ethnographica includes paintings, drawings, sculptures and historical expeditions equipment. In the well-supplied Polar Library with more than 35,000 titles, one of the world's largest collections of Arctic literature is found. An employee with the Danish Arctic Institute will gladly assist you in finding the photos, documents or other archive materials you may need or want to know more about.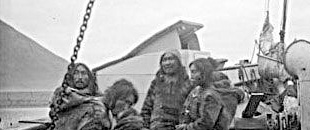 Search in the largest collection of historical photos from Greenland and the Arctic.